How to Find Free Crafting Materials at Home – Kitchen
Kitchen
The kitchen is a great area of the house that seems to naturally collect many different items that are perfect for crafting. Although we all try our best to keep the kitchen neat and clutter free, there are always little things that manage to creep their way into several cupboards and drawers.
Some people may have old utensils they no longer need, broken glass, china or pottery that still have a pretty colours and designs on them and even old containers that are no longer used can be transformed into something new.  Other items that always seem in abundance in most households are product packages, bags, plastics, cartons, elastics, strings from produce and random little tags from bread bags and grocery items.
All you need is a little imagination to create something wonderful out of otherwise useless trash.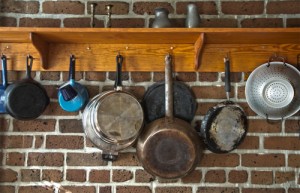 Ideas:
Create mosaic gifts by covering old jars or vases.  You can also add a little flare to existing furniture. (You can see some examples on my Pinterest Mosaic Board.
Create fashion accessories from old utensils.  They are becoming more popular to the point that even Amazon sells watches made out of spoons!
Upcycle old packages into pretty storage items or turn them into home decor. One of my previous posts shows how to make picture frames from food boxes and another to make a mystery holiday bank.
Check back again tomorrow for more craft ideas from random places around the home!   If you have any project ideas to add to this list, please comment below and share 😀