I woke up feeling great this morning. The sun was shining bright, our little birds were chirping away and I went out to teach my little ones -and they were all unbelievably great!
On the way home…… wasn't as great and I started to feel as bit off……with sneezes and sniffles (>_<) When I got home, it was time to make a pot full of ginger goodness that always helps when I feel a little under the weather. Not only is this drink a great antioxidant but it's also an excellent source of Vitamin C, calcium, magnesium, potassium, Vitamin B6, copper and manganese and the list goes on!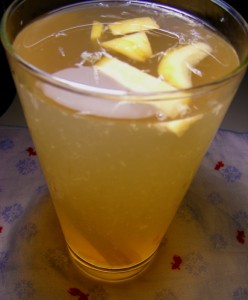 You will need:
A large fresh ginger root
Dried lemongrass (as much as you like)
Fresh Lemon
Honey
Optional: Cinnamon stick or powder
Fill a pot with water.
Slice the entire ginger root and place in the pot with the dried lemongrass.
Boil covered for 10-15 minutes.
Pour into a mug and add lemon juice and honey. Enjoy!
* If you would like the cinnamon version, add the cinnamon sticks or powder instead of lemongrass and boil for the same amount of time.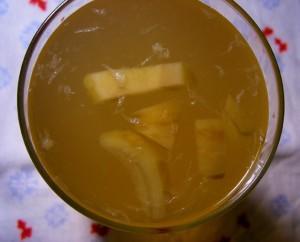 One thing that constantly changes in Japan (more than anything else) are the drink selections in vending machines and combini (Japanese convenience stores). I like to try most of the new drinks out….except for the ones that really seem unappealing to me.
One of my favorites for this season is a lovely "winter blend" tea -not just the flavor but the great packaging as well!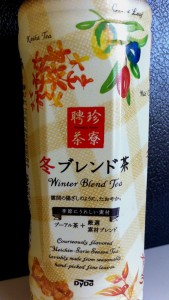 and here are the main ingredients: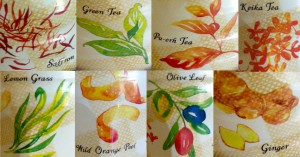 Keeping with the Ginger Drinks, like my Wilkinson's from the other day, I found this fantastic ginger-apple drink from Afternoon Tea.  Apparently they boil apple juice with cloves, fresh ginger and a touch of lemongrass.
When it's all done, they serve it with fresh slices of apple and ginger floating in the cup and a fresh ginger stick to stir it with.