One thing that constantly changes in Japan (more than anything else) are the drink selections in vending machines and combini (Japanese convenience stores). I like to try most of the new drinks out….except for the ones that really seem unappealing to me.
One of my favorites for this season is a lovely "winter blend" tea -not just the flavor but the great packaging as well!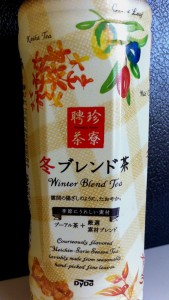 and here are the main ingredients: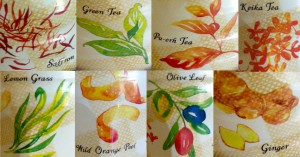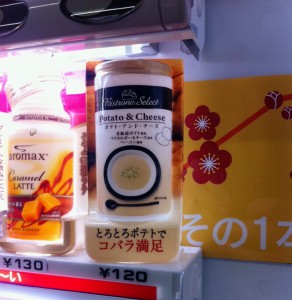 That's right, potato and cheese potage.  Along with many other selections of soups and even sometimes *Oden , everything is available in random vending manchines in Japan.
*Oden is a popular cold weather soup that includes simmering tofu, fish cakes, daikon (radish) and many other ingredients.  Very easy to find in convenience stores all across Japan.
Keeping with the Ginger Drinks, like my Wilkinson's from the other day, I found this fantastic ginger-apple drink from Afternoon Tea.  Apparently they boil apple juice with cloves, fresh ginger and a touch of lemongrass.
When it's all done, they serve it with fresh slices of apple and ginger floating in the cup and a fresh ginger stick to stir it with.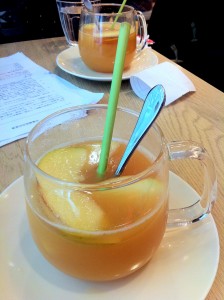 Wilkinson's Ginger Ale = Yum.
This ginger ale has two type and my favorite is the full ginger flavored one like the photo below.  To purchase this brand in a cafe or bar, it's at least ¥500 ($6.00 USD) for one small glass. I found it in a shop near home for ¥89 ($1.08 USD)!!!  yay!