Today we got together a fun little gift for my boyfriend's nephew. His big 5th Birthday, so we wanted to get something creatively put together.
I'm always a fan of putting together packages of different items that work together, so here's what we came up with:
An Explorer's Kit!
First, we found this cute pair of children's binoculars and found a camera case with strap that it could fit into.
Next, we had to get something for him to write his "findings" in, so we managed to find a set of three mini ring notepads. To go with that, we found a multi-color pen to jot down different color-coded notes (or squiggly drawings…) and finally, for his top-secret findings, we found a Doraemon magic ink pen with blacklight!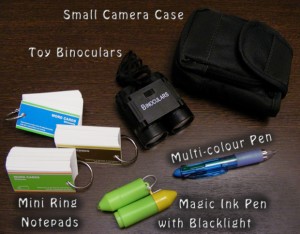 I also made an Explorer's checklist (with a helper's version for his brother) just by getting clipart online and changing the main explorer's colours a bit so the boys don't have matching ones.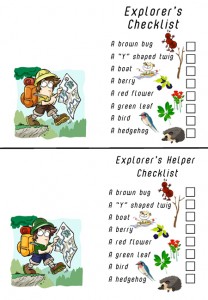 Then we packed it up in a cute box, and done! Total cost for the kit = ¥630 ($7.63 USD)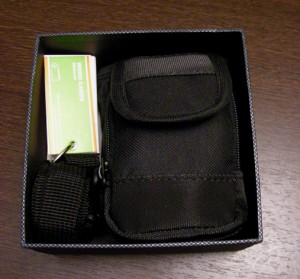 Before he gets it in the mail, we're going to send a quick e-mail with a few riddles to get him to try and guess what his gift is. Hopefully he likes it!
A surprise in the mail!
I received a beautiful gift in the mail from a couple of friends as a late Christmas gift -we were all supposed to get together around Christmas time, but first my boyfriend got sick, followed by me (-_-;) After that, all of us got busy as usual, so we decided to at least mail eachother's gifts.
Since my friends know me so well…… the sent me a beautiful furoshiki handbag with removable handles.
I absolutely LOVE IT!
Today I have two little unexpected visitors. My current place is about 25 floors up, which has a lovely view of a river and the city, but it is a shame not being able to see animals….. but today, two cute little birds landed on the balcony railing. I managed to snap a couple of quick shots before they flew away. Seems like I've been in Tokyo too long since this was unbelievably exciting for me!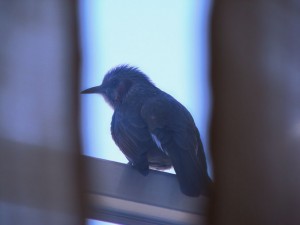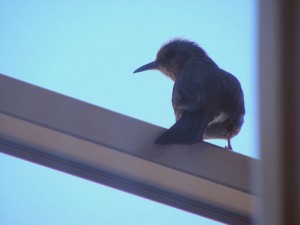 I have fairly recently decided to get out and enjoy the stunning weather every afternoon as a quick break from work to refresh my mind and body. Sometimes my boyfriend is able to tear himself away from work and join me, so today, we decided to grab some bento and have a relaxing lunch at the park.
While trying to feed the little birds and avoid the greedy seagulls, a random older man quietly came up to me and handed me what I thought was a real grasshopper on a leaf (which is odd, but okay…), but it actually turned out to be a grasshopper he had made by hand.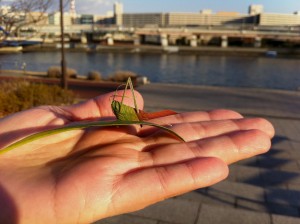 I was so surprised and thankful that I wished I had something to give back. He was just happy to give it to me and explained that I should put it in water to keep it healthy, then just went back to the bench he was sitting at.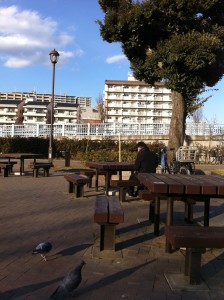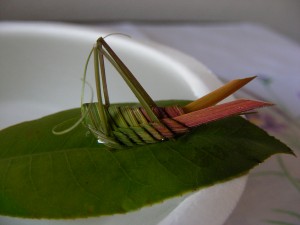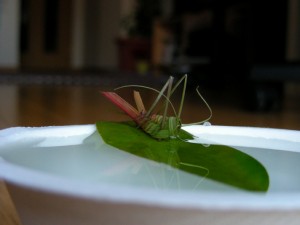 Before leaving, I decided to at least make a little something for him, so I grabbed a candy wrapper I had, made an origami crane and gave it to him with a caramel candy I had with me (photo is an example of what I made).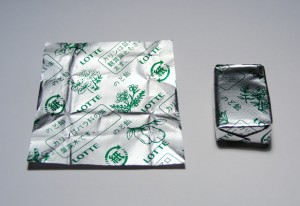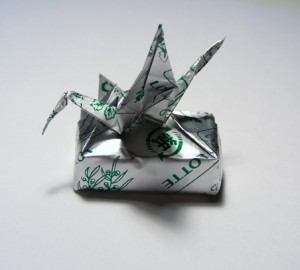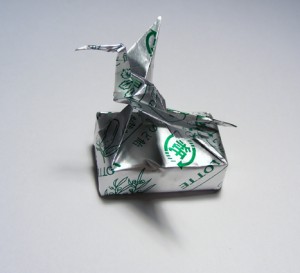 He was quite happy and shyly thanked us for the candy.
We exchanged bows and thanked the man for the beautiful gift and went on our way.
What a lovely random encounter! Can't wait to see what else is in store!