This is the second recipe from our Spinach Iron Chef Dinner. You can find the first recipe here.
Ingredients:
2 cups pasta (1 cup per person)
2-3 cups spinach
1 1/2-2 cups soy milk (make sure it's not the sweet kind!)
1 cup shredded cheese (optional)
2 teaspoons cornstarch
salt and pepper to taste
Instructions:
Creafully wash the spinach and set aside.
Heat a pot of water and add a pinch of salt when the water begins to boil.
Cook pasta al dente and in the last two minutes before the pasta is done, add the spinach to cook together. Drain well and put it back into the pot.
Dilute the cornstarch with a little water. Slowly heat the soy milk in a pot and add the cornstarch. stir occasionally.
Heat the milk for a few minutes and add small portions of the cheese while stirring. Add salt and pepper and cook until all the cheese is melted in.
Pour the sauce over the pasta with spinach and over medium heat, mix the pasta with sauce for a couple of minutes and serve.
Enjoy!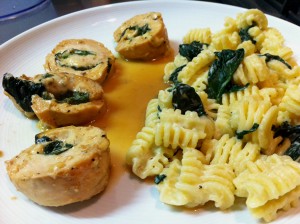 I chose soy milk because it's all we drink at home and it's also great to reduce the saturated fat content in the meal.  This milk along with soy cheese is also a wonderful cream sauce for those who may be lactose intolerant.
This is one recipe from our Spinach Iron Chef Dinner
Our recipes are usually just us experimenting with things and never really following measurements of any kind, so writing up a recipe might not work well for those of you who need solid information.
For the rest of you, here it is:
Ingredients:
2-4 lean chicken breasts
8-10 large spincach leaves
1/2 cup chicken broth
A handful of shredded cheese (mozzarella works well)
Salt
Pepper
Optional:  Nutmeg and Chili Powder
Instructions:
First, pound the meat thin, add salt and pepper freely. If you would like a bit more flavour, add a touch of chili and/or nutmeg.
Layer the spinach neatly along the meat, then add some shredded chicken.
Roll the meat up and secure with some toothpicks.
Heat the pan on high and place the rolled chicken to brown all around. Add the chicken broth and reduce the heat to medium.  We covered the pan but it can also stay uncovered.
Cook for approximately 5 minutes and remove to cut into thick slices (don't forget to remove the toothpicks). Place the slices back into the pan and cook for another 5 minutes, until the broth has reduced and thickened a bit.
Serve with spinach pasta or white rice and enjoy!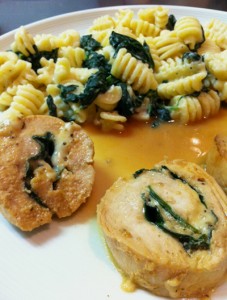 In an effort of trying to eat healthy without killing our budget in Tokyo we try to use a few simple items, perhaps "splurge" on one item every now and then and try to create something delicious.  We also try to do this in an Iron Chef kind of way by using one main item for the whole meal.
This time we got spinach. While we don't race eachother for completing dishes, we do work as a good team by splitting the work -so I made pasta with spinach and soy cream sauce while Jeff made rolled chicken with spinach and cheese.
What a surprisingly delightful meal it was!  It's a shame we wouldn't market well as Iron Chefs….mainly because I would be Iron Chef Canada, Poland and Japan while Jeff would be Iron Chef Indonesia and New Zealand….. (>_<)
Anyway, this is the end result: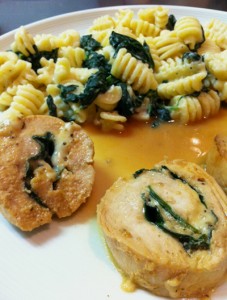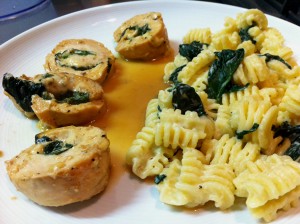 For those of you who are interested, the recipe will be posted soon!