One Good Thing A Day – Project Day 31 – Rice Cooker Banana Bread
We bought bananas last week and didn't get a chance to eat them….or just plain forgot (>_<) I really wanted to make banana bread but of course don't have the luxury or the space for an oven, but then I wondered if I could do it in the rice cooker......and...... Success!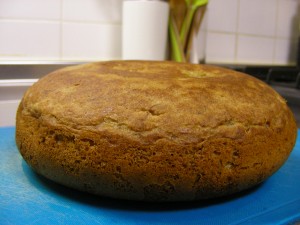 I decided to make it as low in fat as possible without having it taste like "health food".
Recipe
1 egg
3 tbs soft butter
1/4 cup soy milk
1-1¼ cup mashed ripe bananas
1¼ cup baking flour
1/4 cup rye flour
1/4 – 1/3 cup raw or brown sugar (depending on how sweet you want it)
2 tsp baking powder
1/2 tsp baking soda
1/2 tsp salt
1 tsp cooking oil (for inside the rice cooker)
In a large bowl, mix all of the dry ingredients (baking powder, baking soda, flour and salt)
In a smaller bowl, thoroughly mix the egg, milk and sugar
Add the wet ingredients into the large bowl with the dry ingredients and stir in the softened butter and mashed bananas.
Mix everything together until it's fairly smooth.
Grease the inside of the rice cooker bowl with the teaspoon of oil and add the mixture.
Keep the rice cooker on a normal setting and cook twice (or until it's no longer soggy on top) before flipping the banana bread and cooking it for two more runs.
* The cooking time will certainly vary from one rice cooker brand to another -I have a 3-cup Sanyo style.