Kirigami to Decorate Plain Envelopes
Here's a new kirigami project for you to try: Kirigami to decorate plain kraft envelopes!
I love plain kraft envelopes, but they seem too plain to get anyone excited about receiving mail. Also, if I happen to make a big card or book as a gift, those envelopes are usually the perfect size for them.
The last gift I made was a chiyogami wrapped book (with a fully illustrated story) and this kraft envelope I had was exactly the size I needed, so I decided to dress it up to show how special the gift was.
Here's the plain envelope: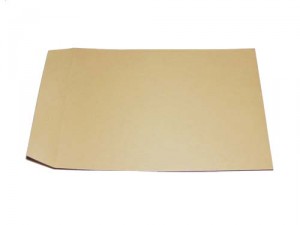 Here's the book: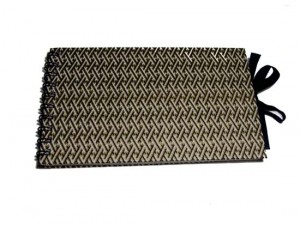 As you can see, the envelope was a little off from the presentation of the book.
If you would like to try this one day, here are brief steps to help you along.
First, draw out what you would like to cut out, whether it's an image or words. Since I was giving this to Jeff, I simply found a pretty font I liked, and drew out "For Jeff" lightly in pencil.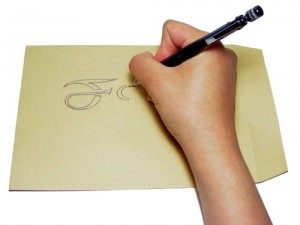 Next, I got a small cutting board that fit inside the envelope and my scalpel knife. If you do not have a small cutting board to fit inside your envelope, use thick, hard cardboard or even a piece of wood -basically anything you can cut on and can fit in the envelope.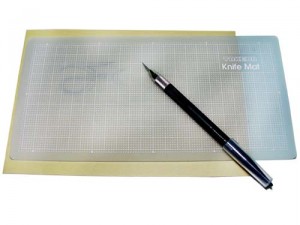 Now, as always with kirigami, make sure the lines have breaks in them so that you leave the outline of the image or words and not cut out everything (like the entire "o" or else that will just leave a big hole).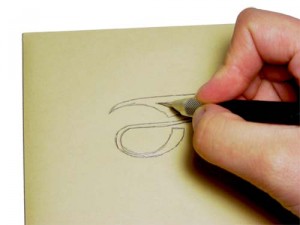 Once you've cut it out, you'll notice it's quite see through and perhaps won't protect the item you would like to put inside….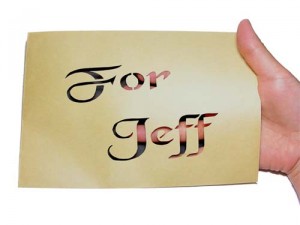 so the next step is to place a colourful or patterned paper behind it. Another nice option is to use translucent paper, or even parchment for a "clouded" effect.
Here's a contrasting black background: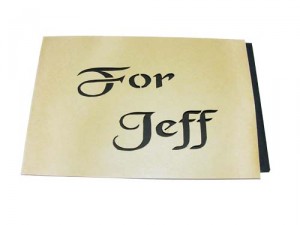 and here's what I did with gold: