How to Turn a Paper Shopping Bag Into a Gift Bag
Sometimes when I'm out, I forget my fabric shopping bag and I get a paper bag with a company logo on it. I rarely used these bags for anything and they just ended up piling up in a storage area.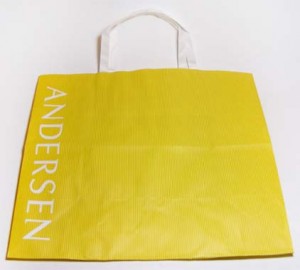 Instead of letting them pile up, I decided to use them as gift bags.
Naturally, using the bags as they are to carry a gift is possible, but I feel it's impersonal and doesn't give the impression of "special gift for you".
There are different ways to alter and decorate paper bags -my favorites, of course, are kirigami, origami, and the use of Japanese washi and chiyogami. Mainly because it's my favorite paper of all time.
Over the next few weeks, I'll show a few examples of paper shopping bags converted into personalized, or just decorated gift bags.
The first one I chose was a paper bag from a popular bakery chain in Tokyo. Pretty much anyone who lives in the city will know the name, so the name and original look had to change.
First, I found some scrap washi to compliment the main colour of the bag (this will be used later). If you don't want scrap paper, feel free to use anything you like for this. Some examples are fabric, scrap plastic wrap, tulle or even netting (used to wrap glass bottles in shops so they don't break).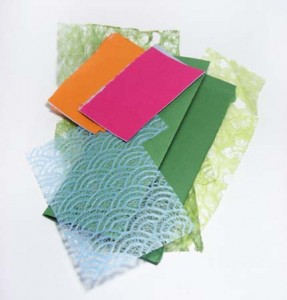 Next, I drew a little design for my kirigami cut out.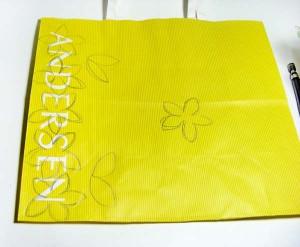 Once the drawing is done, you have two options, either cut it out as is, through both sides of the bag (so you will have a mirror image of your design), or place a cutting mat inside the bag so that it only cuts that one side.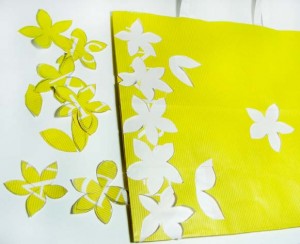 Once the cutting is complete, take the scrap paper (or other material) and place it behind the cut out shapes, secure it to the inside of the bag. If you use a patterned paper, make sure to place the pattern you want facing out so that it shows through the cut outs you've made.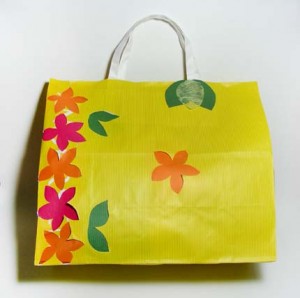 If you would like to dress up the handle, wrap a ribbon or colourful tape around it to add another special touch. I've just added a few leaves near the handle to match the rest of the design.
There you have it, a cute floral gift bag from a bakery shopping bag!