How to – Stained "Glass" Craft for Kids
There are many different ways to recycle plastic packaging that would otherwise get thrown into the trash.  Plastic packages are actually very useful around the home. You can flatten them out as a drop sheet, protect tables or flooring from messy projects, place them on the ground to prevent grass stains while working in the garden or use them in craft projects.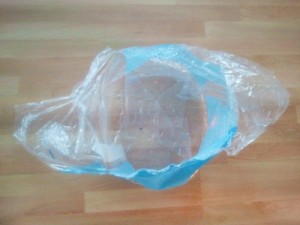 Here is a lovely and simple project to make faux stained glass. It's a fun craft for children and there's no worry of broken glass in the end.
You will need:
plastic packaging
colourful cardboard paper
markers or colourful pens
scissors
hole punch
double-sided tape or glue
string ribbon
optional: stickers
First, you will need to cut the plastic into manageable pieces. I cut out all of the clear pieces that didn't have writing or graphics. You are welcome to use those pieces as well to give the stained glass a look of texture.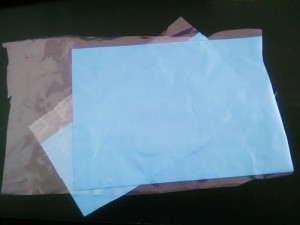 Next, draw different shapes on the cardboard.  Ask the children to draw any shape -squares, hearts, triangles and so on. Once they are done, either have the children cut out the shapes or help them along with it.  The next step to complete the main "frame" is to cut out different objects or words within the main shape. *These will then have to be cut out with care to avoid cutting the edges*
Whatever these inner shapes are, they will be the ones to be illuminated by the sun.
Once that step is complete, place the newly cut pieces on the plastic to see how it will look in the end: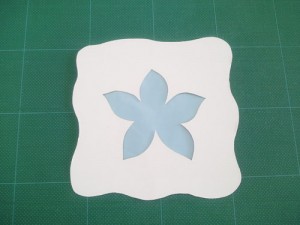 Secure the plastic to the back and cut off any pieces that may stick out from the edges.  Punch a hole at the top, tie off a string or some ribbon and you are ready to hang it anywhere you please.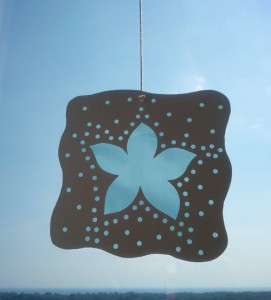 This one had clear plastic as the backing, but you can easily have the children colour it in with markers or pens: