Homemade Vegetable Chicken Soup
We had a sudden shift of cool rainy weather come in, making it a wonderful time for some hearty soup.
As usual, I wasn't quite sure what was going to go into the soup or how it would end up tasting, but I just went along with what we had and added a couple of things from the grocery store to pad it out.
The end result? One of the nicest soups I've had in years!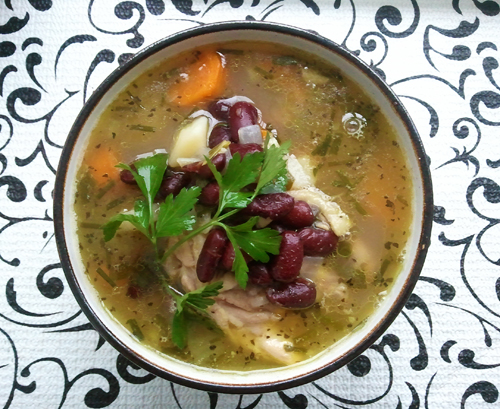 Ingredients:
4-6 chicken thighs (with bone and skin)
1 ½-2 chicken bouillon cubes
4 small potatoes (cubed)
1 large carrot (cubed)
4 large mushrooms (cubed)
1 small chopped onion
4-6  chopped cloves of garlic
1 can red kidney beans (rinsed)
3 tablespoons chopped fresh chives
3 tablespoons chopped fresh parsley
2 teaspoons garlic powder
1 teaspoon dried rosemary
1 teaspoon dried basil
1-2 dried bay leaves
1 pinch of cumin powder
1 pinch of seasoning salt
1 pinch of shichimi (You can find shichimi on Amazon
)
salt and pepper to taste

Procedure:
Place 1 L of water in a medium to large pot over high heat.
Add chicken thighs, potatoes and carrots.
Add 1 ½-2 chicken bouillon cubes, followed by salt, pepper, garlic powder, rosemary, cumin, basil, shichimi  and bay leaves.
Once the water begins to boil, reduce to medium heat.
On a small pan, lightly fry chopped onions with a tablespoon of extra virgin olive oil over medium heat.
After 2 minutes or so, add garlic to the onions and fry for an additional minute.
Remove from heat and add the onions and garlic to the boiling pot.
Add mushrooms and kidney beans to the pot then boil for a few more minutes.
Add chives and parsley to the boiling pot and allow to cook for 1 minute before removing the soup from the heat.
Enjoy with garlic bread or herb crackers!
*The soup tastes even better the day after!*