Guest Post: DIY Glitter Ornament
There's nothing better than getting in the holiday spirit with some glitter and a good craft! This glitter ornament DIY craft is fun, easy, and inexpensive! Another bonus: this craft is super easy to clean up and won't leave glitter all over everything. These look gorgeous on a tree and make great holiday gifts.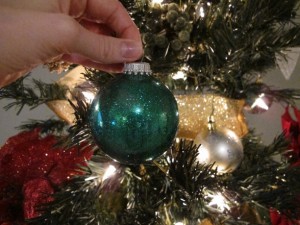 Here's what you'll need to get started:
clear glass ornaments
clear floor wax – make sure it's Pledge brand with the blue cap bottle
fine glitter
cotton swabs
a paper cone funnel (or, my version: an envelope with the corner cut off)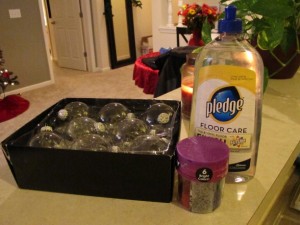 Step 1: Remove the hangers from the top of the ornaments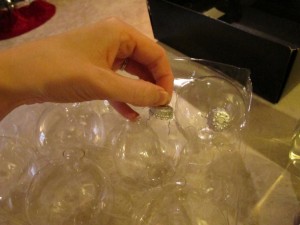 Step 2: Squirt the floor wax into the ornament and swirl around the ornament to coat the insides. Don't shake it, the wax will bubble up inside.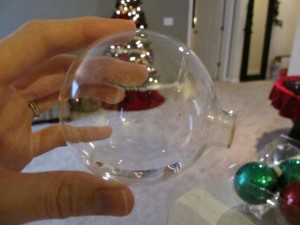 Step 3: Let the excess wax drip back into the bottle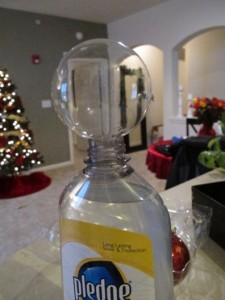 Step 4: Use a cotton swab to pop any bubbles and wipe the mouth of the ornament from excess wax.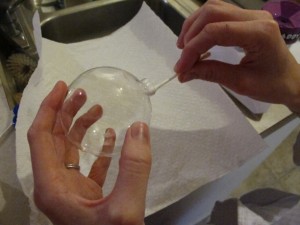 Step 5: Use the paper cone (or envelope) funnel to add the glitter into the ornament. Put quite a bit in to coat the entire ornament. Don't worry, you'll dump the excess out.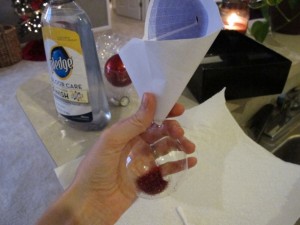 Step 6: Place your thumb over the mouth of the ornament and shake the glitter all around so it coats the entire ornament. Dump the excess glitter back into the container so it's ready to go for the next round.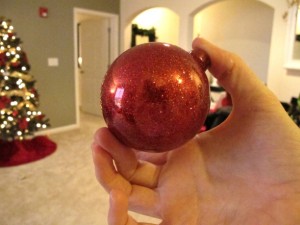 Step 7: Voila! Replace the ornament hook and you've got a gorgeous set of SPARKLY ornaments!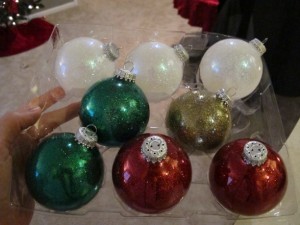 If you're giving these babies as gifts, you can add a bow to the hook to dress it up a little more and find ornament sized boxes for pretty gift wrapping.
Author Bio: As a writer for Handbag Heaven. I spend most of my days accessorizing with purses and handbags, but outside of my job I spend time crafting, cooking, and shopping! The holidays are perfect for exercising my hobbies! I also enjoy spending time with my husband, family, and my precious puppy.