Girls with Eye patches
I have been pondering a question asked by a friend a while ago about the young girls in Tokyo who wear eye patches.
There seem to be many young girls who have gauze eye patches and no one knows why….I'm not talking about the ones who wear it as some kind of fashion statement, but what looks to be real medical eye patches.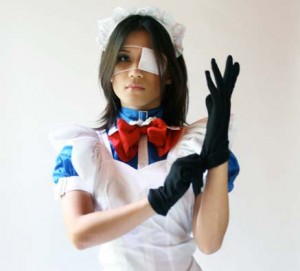 Someone theorized that it may be from surgery, or infection after putting on makeup that hundreds of others have used from cosmetic shops (sample makeup).
Both theories are quite possible, but of course, if that was the case, most of the girls would require bandages on both eyes…right?
My explanation is this:
Young Tokyo girls are famous for putting on all of their makeup on the trains, cafes, buses, malls -you name it. The ones who choose to apply their makeup on the trains normally don't pay attention to anything but their face and hair, so in a crowded or shakey train, it's easy to get pushed or lose your balance (as I have seen far too many times already!) and poke yourself in the eye with a makeup applicator.
If anyone out there knows the real reason, I would love to hear from you! Me and my friends are placing bets!