Chicken Bok Choy Pasta Recipe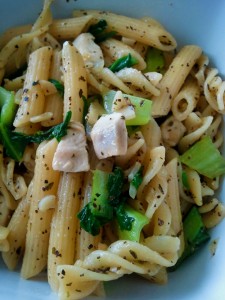 We had some leftover baby bok choy and I wanted to make something quick and easy, so I decided on a really simple pasta that we both love. I don't really have solid measurements (as usual with my recipes) so just consider this as a great "leftovers" mix up.
You will need:

2 cups pasta (any will do)
1 large boneless/skinless chicken breast
3 bunches of baby bok choy
4-5 cloves of garlic (we love garlic)
1 small white onion
3-4 tablespoons olive oil
1 heaping tablespoon of dried basil
Salt and Pepper to taste
optional: shichimi (Japanese seven spice mix)
1 – Cook pasta al dente.
2 – Chop the onion and garlic.
3 – Cube the chicken into 1 inch pieces.
4 – Drain pasta and place in a large bowl.
5 – Heat olive oil in the cooking pot and add onions.
6 – Cook onions until clear then add garlic and dry basil.
7 – Cook for approximately 30 seconds and add chicken cubes with salt and pepper (and shichimi if you like).
8 – Continue to cook for a couple of minutes making sure to stir often.
9 – Add pasta, stir until thoroughly mixed.
10 – Serve hot and enjoy.