Banana Pistachio Cake
As promised, here is the banana pistachio cake recipe. It's lovely, moist and subtle in flavour  *^_^*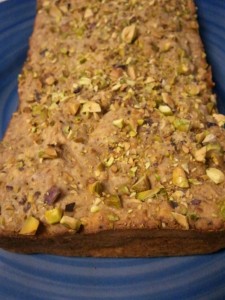 Ingredients:
3 medium ripe bananas
1 egg
1½ cups flour
½-¾ cup sugar (depending on your preferred sweetness level)
1 cup roughly chopped pistachios (save a sprinkle for the end)
½ teaspoon salt
1 teaspoon baking soda
½ teaspoon cinnamon
½-¾ cup butter or vegetable shortening
Procedure:
Preheat oven to 325ºF.
In a small bowl, mix together the egg, shortening and sugar.
In a large bowl, mix all of the dry ingredients minus the pistachios.
Combine the wet ingredients into the dry mixture.
Add chopped pistachios and mix until evenly distributed.
In a greased pan, pour the batter and even it out with a spatula.
Sprinkle remaining chopped pistachio.
Bake for approximately 45 minutes or until the skewer comes out clean.
Enjoy!