Top 5 Games the Whole Family Will Enjoy
There's no doubt that it can be difficult to keep the kids entertained. If you don't have the money to visit a theme park or museum this weekend and you can't stand to sit through one more viewing of Ice Age 4 (you love that stupid squirrel and his acorn, but at 200 viewings and counting you're about ready to swear off animated features completely), you might be at a loss as to how to keep the whole family entertained on a budget. But the answer is so simple you'll be surprised you didn't think of it before: a game night! And here are just a few classics (and classics-in-the-making) that you may want to include in the fun.
Forbidden Island. The current trend in board games centers on the idea of cooperative play. Many adults are already fond of the Pandemic board game, where players work together to stop the spread of disease outbreaks before they can decimate the population. But this is hardly fare for young kids. So if you're seeking a co-op game for the whole family, try Forbidden Island, where everyone cooperates to rescue priceless artifacts and get on a helicopter before a mythical island sinks into the ocean. If you like this one you might also enjoy Castle Panic, where players band together to defend their castle from a slew of crazy monsters. This one is recommended for ages 10 and up, but it's simple enough for most school-age kids to participate.
Pictureka. This memory and identification game is easy enough for even young kids to enjoy. With 9 doodle-covered game-board tiles (they're two sided for extra fun – flip them, turn them, move them around) and a stack of "mission" cards to get you started, you'll be looking for legs, counting toothpaste tubes, and finding pirate-related pictures all night. While tiny tots may have a hard time competing with older siblings, you might just find that your kids are out-playing you before long. In short, it can be a lot of fun for all ages.
Clue, Jr. There are plenty of classic board games to choose from, with Monopoly and Scrabble topping the list. But not all of them are geared towards the younger set. And those that are often bore the heck out of older kids. Not so with this clue-filled whodunit. Even the junior version will have the whole family guessing the identity of the cake thief (no killers in the Jr. version) right up to the thrilling reveal.
Charades. Who says you need props to get a game going? With charades all you need is your intellect and a willingness to embarrass yourself so that your team can guess the clue you've been set to mime. You might need to go online to generate word lists or learn common hand signals (for small words like "a" or "I" or genres like movies and books, for example). But the game itself is simple enough for all to play.
Rock Band. If video games are more your speed, Rock Band is one that the whole family can have fun with. You will need a console (Xbox 360 or PS3) and some special equipment (the mic/drum/guitar kit for the game), but once you're set up you can spend countless nights getting your money's worth by jamming out to your favorite tunes. If you get through them all, there are several additional games to consider (Green Day Rock Band, Beatles Rock Band, even Legos Rock Band) and you can always use your Xbox Live account to download new content.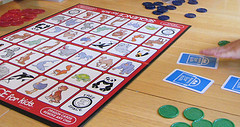 Sarah Danielson is a contributing writer for Download Free Games where you can find educational games for kids and families such as Bookworm Deluxe and Tux Typing.