Smoothie Recipes for Digestive Problems
Over the last few years, I have developed many digestive problems, especially when it comes to digesting greens like spinach and kale. This has created many problems getting adequate vitamins and minerals from the foods that I can normally eat.
I have tried to eat small amounts of different foods to get proper nutrients, but nothing worked (and it was painful for me too).  My best friend was kind enough to give me a healthy smoothie book full of recipes that are easy to digest and provide a wide range of vitamins, minerals, fibre and antioxidants.
I tried some of the smoothies from the book and they were delicious. The only problem is that hardly any of them had kale (which I love). This book also made me want to experiment with my own smoothie creations using kale.
I've tried different combinations and this is the one that has been the easiest on my stomach. Try it out and see if you like it!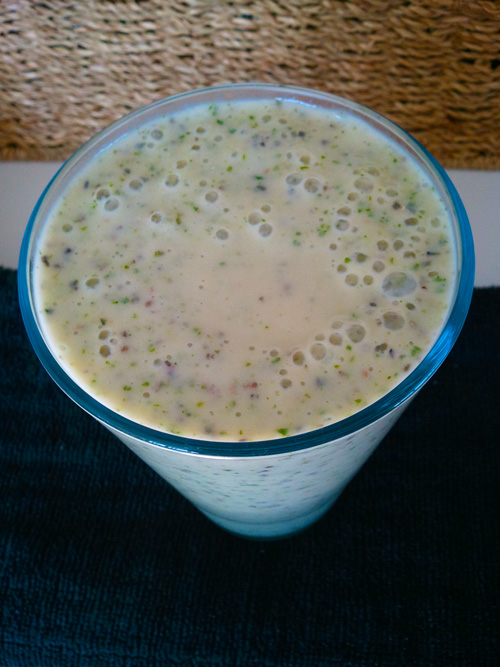 Ingredients
1 large kale leaf (you can slowly add more as you get used to it).
Silken Tofu or Natural /Vanilla Yogurt ( I use lactose free vanilla yogurt)
Optional: honey, stevia or agave nectar
Toss everything into a blender and blend for a couple of minutes until it has a smooth, uniform look.
Be aware that silken tofu will thicken the smoothie quite a bit and fill you up pretty well. I normally drink this with a snack in place of a full meal.
Benefits of the Ingredients:
Kale –  vitamin A,  vitamin B1, vitamin B2, vitamin B6, vitamin C, vitamin E, vitamin K, calcium, manganese, copper, fiber, potassium, iron, magnesium, omega-3, and  phosphorus.
Banana – vitamin B6, vitamin C, potassium, manganese, fiber, copper
Chia – fibre, omega 3,  calcium, manganese, phosphorus, and protein
Silken Tofu – calcium, manganese, iron, copper, protein, selenium, phosphorus, vitamin B1, omega-3, magnesium, and zinc
Yogurt – iodine, vitamin B2, vitamin B12, phosphorus, calcium, protein, zinc
Almond Milk – calcium, potassium, riboflavin, vitamin A, vitamin B12, vitamin E, zinc, and fibre
Honey – protein, calcium, iron, natural sugars, carbohydrates, Vitamin C, folate, and potassium
Agave Nectar – fructose, glucose, carbohydrates, fibre
Stevia (natural stevia leaf) – protein, fiber, vitamins A, vitamin C, carbohydrates, iron, phosphorus, calcium, potassium, sodium, magnesium, and zinc
If you have any digestive problems, I would love to hear what you do to help get nutrients each day.