Quick Decorations for Halloween Sweets – Great for any occasion!
I simply didn't have the time to make an effort for Halloween this year -in Japan, people don't trick or treat….and I suppose I temporarily forgot I'm back in Canada (oops).
I went down to the local convenience store to grab a few little sweets in case children do come along but wanted to make it look more fun and festive than sad little chocolates, so I went to one of my favourite sites for free printables: Disney's Family Fun (familyfun.go.com)
and quickly printed out these cupcake toppers. Cut them out and stuck them on the candies. The total time to complete was 5 minutes max.
End result: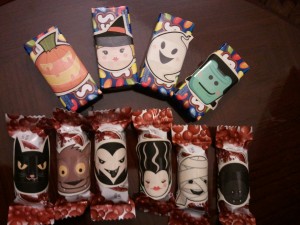 Since we live in a condo with just a few families, I also wasn't sure if they would trick or treat here (I did when I was little and living in an apartment), so I quickly grabbed some pictures online and used my beloved photoshop to replace the "Tim Burton's Nightmare Before Christmas" writing with "Trick or Treaters are Welcome!"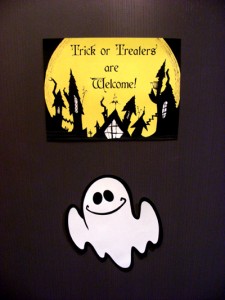 Now to finish up last-minute work and get those movies rolling!