One Good Thing A Day – Project Day 8 – Man Flying Kite with Fishing Rod
YOKOHAMA DAY!
We decided to take a day off…well….after doing a little work in the morning….and went down to Yokohama!
I love to visit Yokohama because of the large open spaces and general relaxing atmosphere.  Before getting some lunch, we decided to walk through a park and enjoy the scenery, when we noticed something truly unusual….. a group of older men gathered around one person and looking up at the sky. Naturally, we had to investigate.  Looking up at the sky, we saw a kite, nothing unusual about that….. but when we looked at the person everyone was gathering around, we noticed they weren't holding a normal kite handle but a fishing rod instead.  Seem that the men were bored of finishing and decided to attach a kite to one of the rods.
I wasn't able to snap a picture, so here's a terrible 10 second sketch instead: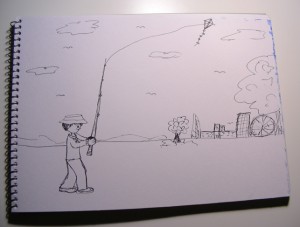 While this is certainly NOT the strangest thing I've seen in Japan, it's up there!