Lasagne Recipe – First Try with Great Results
I've never tried making lasagne before and had an urge to try it out. I didn't realize just how long it takes to make, so I was very thankful it turned out to be delicious!
I don't really like to follow recipes in every detail, so I just winged it.
Ingredients:
1 large can of diced tomatoes (700-800ml)
lasagne pasta (I used 9)
500g minced chicken
2 eggs
1 small onion (diced)
4 cloves garlic (minced)
2 carrots (diced)
6 large white button mushrooms (large chunks)
1.5 cups spinach (cut into large slices)
2-3 cups shredded marble cheese (it's all we had at home)
Olive oil
Salt and Pepper
Hot pepper flakes
Dried Oregano and Basil
White wine (optional)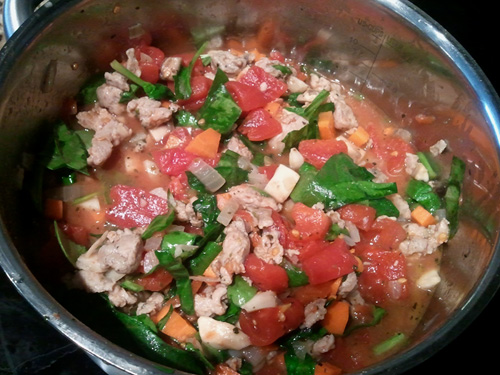 Procedure:
Heat a medium pot over medium-high heat. Add olive oil, onions then garlic. Cook until onions are translucent.
Add minced chicken, herbs and spices with a bit of white wine into the pot and stir until cooked through.
Add the vegetables and canned tomatoes.
Reduce heat and let simmer for 45 minutes to 1 hour.
Cook pasta for approximately 6-8 minutes, making sure it's al dente. Drain and set aside.
Once the sauce is finished simmering, add a layer to the bottom of the baking dish.
Add a layer of the pasta.
Add a layer of meat/vegetable sauce.
Add a layer of cheese.
Another layer of pasta….and continue until you've run out of space.
Finish off the top with a layer of shredded cheese and whisked egg to seal everything nicely.
Bake at 350°F for approximately 45 minutes or until the top is a nice golden colour.
This is the end result for me: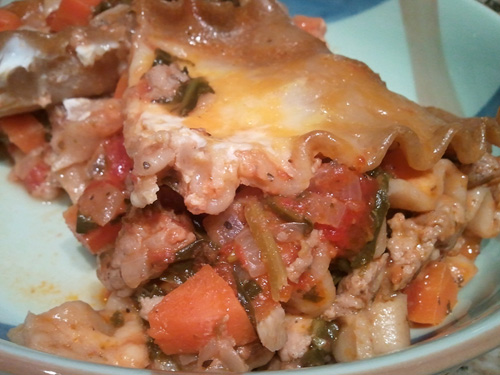 I hope you can enjoy a yummy lasagne dish as well!