How to – Simple (and Inexpensive) Back-to-School Set
When little ones start school or go back to school, they always want to be more like the "big kids". Although children in preschool and kindergarten don't require notebooks, it's possible to make an easy DIY personalized notebook just for fun.  Throw in a few more things to go along with it and they will instantly feel more important and organized for their "long" days in school.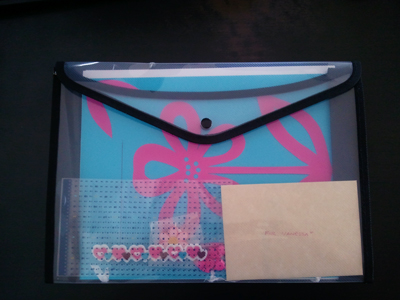 Unfortunately, I didn't take photos of the other items in this set so I'll list them for you here:
DIY notebook
Pink pencil to match the notebook
Printed calendar with cute animal characters
After school schedule sheets
"First days of school" diary sheets (one lined page and one illustration page per day for one week) .
Pink kitty cat buttons (for crafts, clothing or bags)
Two pink flower patches (for clothes, shoes or bags)
One embroidered row of hearts with adhesive backing (for stationery decoration)
Handmade greeting card with an owl (for good luck)
Everything was placed in a flexible and expandable plastic case to keep everything dry and to make room for school work.
To make your own notebook, all you need is:
a bunch of three-hole lined paper
two pieces of cardboard paper (same size or larger than the lined paper)
three evenly cut pieces of ribbon
scrap cardboard paper (preferably in a contrasting colour to the other pieces)
adhesive (double-sided tape, glue, paste…)
Comment below to let me know what you think.  If you made some of your own DIY back-to-school items, please send me a message and I might just feature you on the site!