How-to Project – Very Simple Handbag From Slacks
I had a pair of lovely slacks that sadly got some bleach stains at the top, so I decided to create things with them.
The first thing is a small messenger-style bag that I can use for casual and more dressy occasions.  The crease down the middle gives it a more structured look while the lace ribbon gives it a more feminine touch.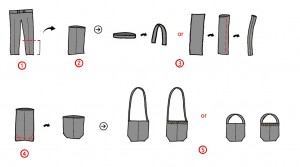 1 – Decided how long/deep you would like the bag and cut across one of the pant legs.  If the bottom has a cuff, cut that off as well and set it aside.
2 – Turn it inside out so the seams are showing and set it aside.
3 – Now you can prepare the handles.  For short handles, use the cuff by snipping through the loop once.  For longer handles, you can either use a long strip of fabric from the pants or any other fabric that you think will match.  fold it over lengthwise and sew along one side, making a tube.  Turn it inside out and set aside.
4 – With the main fabric, sew along the bottom as well as a diagonal on both sides. Turn it inside out.  Fold the top edge in and sew all around to give it a more finished look.  If the stitching is a little crooked, don't worry!  That's what the ribbon can hide.  * If you would like to add decorative lining, sew a tube from that fabric and attach it to the bag in this step, before sewing along the bottom.  Rememeber to keep the fabric pattern facing outward when sewing it to the bag, so when you turn it inside out, you can still see the pretty pattern.
5 – Now take the fabric for the handles and put one end inside the bag (at least 3cm) and sew it to the side. Repeat the step for the other side.
* Sew the ribbon to the top along the seam……. and you're done.