How to Find Free Crafting Materials at Home – Bathroom
The bathroom is an unlikely space to have free crafting materials, but if you use your imagination, it's quite possible to find a lot of great things.
The main sources will generally be product packaging. Think about used up body lotion bottles, bottles or boxes for refills, facial soaps and creams and so on. While you can certainly recycle these items, they can also be turned into useful items around the home.
Other items that can usually be found are random elastics, ribbons, plastic caps, old towels, shower curtains, fabric, toilet paper rolls and more.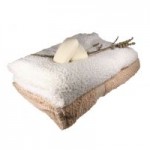 Ideas:
Create toilet paper roll rockets or beautiful toilet paper roll wreaths and wall art (yes, it can be beautiful!)
Make multi-purpose holder from old soap/lotion bottles. Here is one great tutorial from make it and love it.
Make an outdoor quilt with old towels.
Cut the tops off old plastic bottles, paint or cover with decorative fabric for fun vases.
Create a fun indoor/outdoor canopy from old shower curtains. You can find great canopy ideas from Apartment Therapy.