Creative Baby Shower Thank You Note Ideas
Baby showers are a wonderful time to celebrate the coming birth of a new child.
They are also a great way to get a head start in gathering all the stuff that the baby is going to need. But, after the party is over and the gifts have been unwrapped, you've got to send out some thank you cards.
Don't just buy a bunch of Hallmark cards to send your friends. You can make your own baby shower thank you notes, and spice them up yourself.
So, here are some creative ideas to help you write awesome baby shower thank you notes.
Spell Out The Baby's Name
Consider using some cute phrases to spell out your new baby's name. For example, if you're going to name your new baby Sarah, you can use the name as an acronym on the front of the thank you note like so…
Soft as silk.
Angelic in nature.
Really, really cute.
A true blessing.
Happy as can be.
The possibilities are endless. Your friends will love the originality and creativity. But, what if you haven't picked out a baby's name yet, or you're not sure of the sex? Here are some more ideas.
Write a Poem
We may not all be poets, but it can be fun to write a poem every now and again. There are a lot of great poems about babies that you can use, or, if you're up to the challenge, you can write one yourself.
Here is a nice little sample poem:
A Baby is a Miracle
This little tiny baby
Was sent from God above
To fill our hearts with happiness
And touch our lives with love
He must have known
We'd give our all
And always do our best
To give our precious baby love
And be grateful and so blessed
Poetry isn't your thing? You can also consider adding some inspiring quotes about babies and new life.
Include a Quote
There are hundreds of quotes that would be great to include in your baby shower thank you cards. A quick google search will have you swimming in quotes. But, here are a few to get you started:
"A moment in my tummy… a lifetime in my heart."
-Anonymous
"Birth is not only about making babies. It's about making mothers~ strong, competent, capable mothers who trust themselves and believe in their inner strength"
– Barbara Katz Rothman
"Girl or boy, you'll bring much joy"
– Anonymous
"A baby will make love stronger, days shorter, nights longer, bankroll smaller, home happier, clothes shabbier, the past forgotten, and the future worth living for"
– Anonymous
"A baby is God's opinion that life should go on."
– Carl Sandburg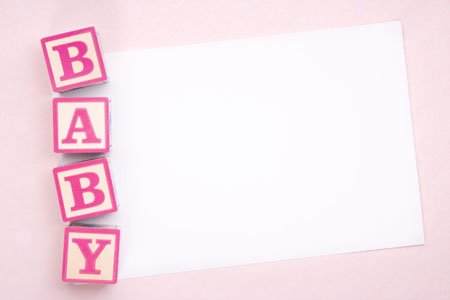 Thank You Note Resources
Need additional help writing your baby shower thank you notes? Here are a few great resources to help you out.
– Baby Shower Thank You Notes – Samples and Wording Ideas
Read thank you note samples to help you figure out how best to word your notes. There are also some good tips as well.
More quotes than you can shake a stick at.
Read beautiful poems about babies and new life.