Ever since we started leaving a little food on the balcony, we're getting more birds, including six cute little sparrows. I decided to make a little bird area with food tray, little bowl of water for a bath and a bamboo "seating area" for ultimate comfort.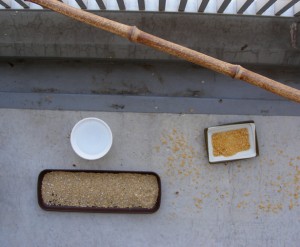 I hope they enjoy it!
Today I have two little unexpected visitors. My current place is about 25 floors up, which has a lovely view of a river and the city, but it is a shame not being able to see animals….. but today, two cute little birds landed on the balcony railing. I managed to snap a couple of quick shots before they flew away. Seems like I've been in Tokyo too long since this was unbelievably exciting for me!